So … who is this Kurtasaurus Domesticus?
Kurt Michael Bauer – a.k.a. Kurtasaurus Domesticus – is an ingenious designer in San Diego, California, who snoops around estate sales and auctions for EXTINCT materials, then puts them through a careful UPCYCLE process, making DISTINCT creations for your 'Cave-Sweet-Cave'!
From growing up in a humongous family in rural Michigan who never wasted anything after living through the Great Depression and WWII … to graduating with highest honors from a prestigious interior design program and achieving an Allied Membership in the American Society of Interior Designers (ASID), Kurtasaurus has been creating unique artistic pieces with whatever he can dig up – for his entire life. Whether it's upcyling accessories and furniture, or designing tailored living spaces, this innately creative dino can help turn your favorite dwelling space into the most admired 'cave-sweet-cave' on the block.
When Kurtasaurus isn't cleverly crafting junk into jewels, he's wordsmithing interviews into information and making magical memories through photography. For more than 25 years – including 6 years serving as a photojournalist in the United States Air Force – he has been earning awards, accolades and medals for journalism and photography. Kurtasaurus is always up for an adventure, whether precariously maneuvering 1,700 feet down the highest sea cliffs in the world on the back of a temperamental mule to feature a quarantined leper colony on the Island of Molokai … to being daringly tethered to military aircraft, dangling high above the scorching sands of the Middle East, capturing the intense action of Operation Desert Storm!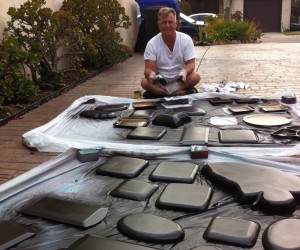 Kurtasaurus can often be observed in his natural habitat, furiously handcrafting items …
crouched down, cross-legged amid his creations, his hide spattered in stain and paint …
fiercely focused on his designs for lengthy periods … pausing only during feeding times.